Cyndi Harlow Makes Lifelong Connections From Around The World At LSI
---
Cyndi Harlow Makes Lifelong Connections From Around The World At LSI
October 18, 2022
By Larissa Martins -- LSI Communications Intern
Cyndi Harlow began working with the Learning Systems Institute in 2006 as an accounting associate. Nowadays, her role consists of parasailing, guided tours, and cooking lessons with people from all over the world. It all started as her role expanded to working with traveling groups from foreign countries who participate in the Community College Administration Program (CCAP) run by LSI. Before the participants arrive, Cyndi is busy making hotel reservations, planning places to eat, and arranging tourist activities. "I do all the logistics, I make sure they get to and from where they're supposed to be during their stay, and I'm also in charge of our cultural affairs and get to do all the fun stuff with them."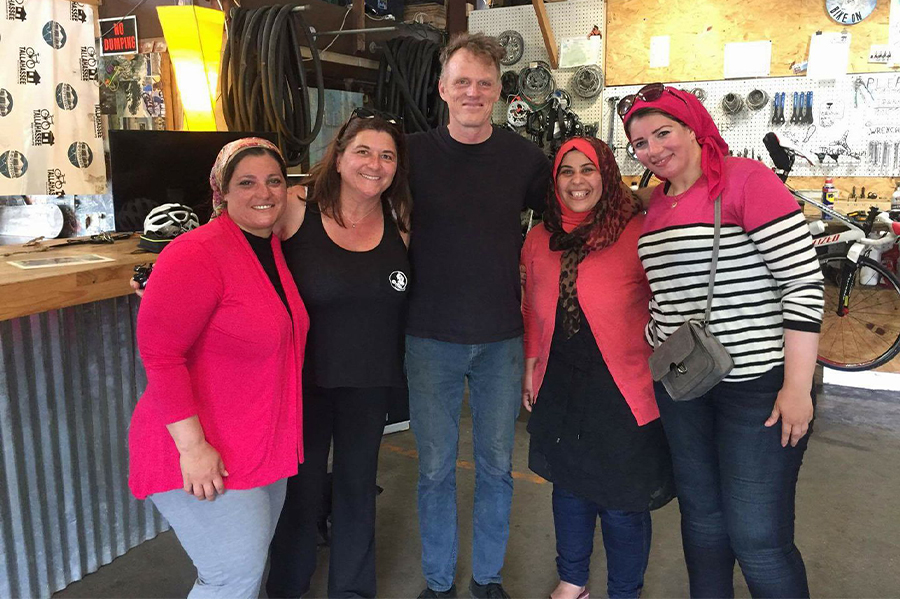 The primary purpose of CCAP is to enhance international understanding of U.S. community colleges and U.S. community college systems. The trip provides foreign groups with insight into administrative aspects and academic opportunities, such as technology programs. On the other hand, Cyndi ensures that creating fond memories is another essential aspect of their trip, so the groups also get plenty of time for fun activities during their stay.
Cyndi loves meeting and spending time with these groups who come to Florida from places all around the world to attend this program. She mentions how there are twenty-one participants for the first week in Tallahassee and sixteen participants remain for the following three weeks of the program, but it all goes by too fast. Cyndi describes the last day at the airport as being filled with tears, "I'm crying and they're crying because they become like family."
In addition to the community college activities, groups get to experience different cultural affairs, such as swimming in springs and banana boat riding. They also go to typical tourist attractions and visit places like Walt Disney World and Kennedy Space Center. One of Cyndi's many fond memories includes taking a Pakistani group kayaking at Rainbow River. Cyndi loves having these cultural experiences with the groups and has led them into countless adventures.
One specific tradition Cyndi always looks forward to is learning how to cook different cultural dishes. She mentions that they have a family night in Gainesville every year where everybody gets together and cooks. She recalls the Egyptians preparing a fantastic meal, and she was able to learn a few recipes that she still regularly makes. One of them is a fried eggplant dish, Putangan, and another one of her favorites is Molokhia, consisting of greens cooked with onions and garlic and often paired up with rice. Whether it is learning about cultural foods and customs, or going on adventures like parasailing, Cyndi thoroughly enjoys getting to know the people in each group. "Everybody in every country and every culture has something different and beautiful to offer".
Cyndi explains how working with each different group is an amazing new experience, and she considers all of them as her favorites. "From touchdown to take-off, I am the mother of the group and I love taking care of these people." She is grateful for the relationships she has made and enjoys keeping in touch with all the participants, despite how long ago it may have been. She couldn't be happier with her job at the Learning Systems Institute and how it's given her meaningful connections to people from different countries. "I feel like I have family from around the world. Those are my brothers and sisters and will be for life."