LSI Receives Fifth Florida TaxWatch Productivity Award For $3.75M Cost Savings
---
LSI Receives Fifth Florida TaxWatch Productivity Award For $3.75M Cost Savings
November 8, 2022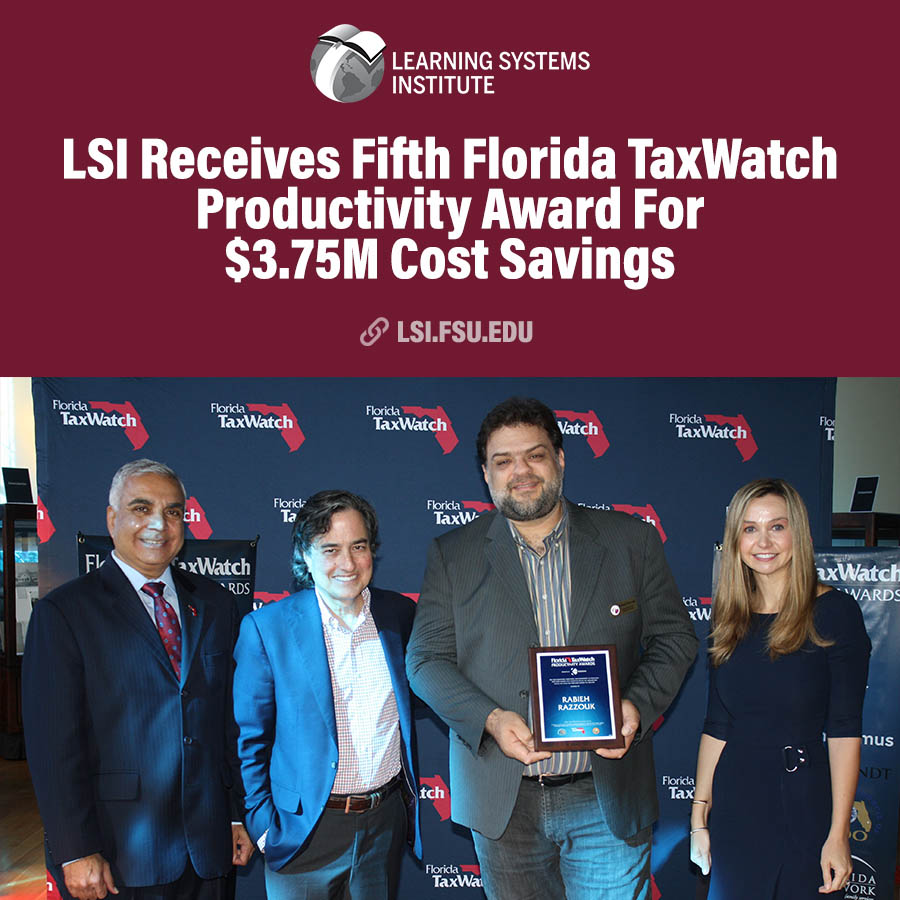 The Learning System Institute at Florida State University has been awarded its fifth Florida TaxWatch Productivity Award. The award recognizes and rewards state employees and workgroups who find ways to improve services, increase efficiencies and save Florida taxpayers millions of dollars each year. Florida State University employees claimed 18 Florida TaxWatch Productivity Awards, the most by any institution in the State University System.
LSI Director Rabieh Razzouk was named a 2022 award recipient in technology with an estimated cost savings of $3,750,000. Razzouk and his CPALMS team created an online portal to facilitate the state's instructional materials adoption process and communicate the information to all stakeholders in an efficient and time-saving method. The portal manages the process from registering vendors, accepting bids, processing all bids through the state's multi-step review process and dissemination of information to the public, schools and school districts and to teachers within tools such as CPALMS and the CMAP curriculum planner. Teachers can now select the book they use, and all the information they need for teaching is automatically inserted in their plans based on what and when they teach a topic.
"At LSI, we pride ourselves on performing innovative and impactful work but also maximizing our resources so we can provide unmatched service," said Razzouk. "We are thankful that Florida TaxWatch has recognized that we do excellent work at LSI but also save Florida taxpayers money in the process."
Razzouk and FSU's winners were honored for their award-winning solutions and productivity improvements for state government during an awards ceremony Tuesday, Nov. 1. 
"FSU is the No. 1 university with the best and most productivity awards," said Dominic Calabro, president and CEO of Florida Tax Watch. "This is a one-of-a-kind program that recognizes, rewards and replicates excellence in state government."
This year, Florida TaxWatch will present approximately 148 awards to thousands of individual employees and large teams from 17 state agencies and four universities across Florida, including FSU. The organization says that its efforts will save taxpayers over $818 million, contributing to an estimated $12 billion in total savings since the Productivity Awards program was established.
"We are definitely aware of the talented faculty and staff that we have at the institution, but it's always exciting and affirming when someone outside the university recognizes all the hard work that our faculty and staff are doing to make sure we're efficient and effective in everything we do," said Renisha Gibbs, associate vice president for human resources and Finance and Administration chief of staff.
"I think it translates into a good-quality educational product for the students," Gibbs said. "That's why we're here, to make sure that we are educating our students. We are really excited and proud of the work we're doing with them, and when we're doing our work efficiently and effectively, that translates into a good experience for our students."
Florida TaxWatch, an independent, nonpartisan nonprofit government watchdog and taxpayer research institute, says it aims to serve as the eyes and ears of Florida taxpayers and to help promote stewardship of taxpayers' money.