LSI's Impact Here At Home And Globally Drives Director Rabieh Razzouk
---
LSI's Impact Here At Home And Globally Drives Director Rabieh Razzouk
November 21, 2022
By Larissa Martins/LSI Communications Intern
In 2021, Rabieh Razzouk was named the director of the Learning Systems Institute after nearly two decades working for the institute. While the position comes with an array of responsibilities,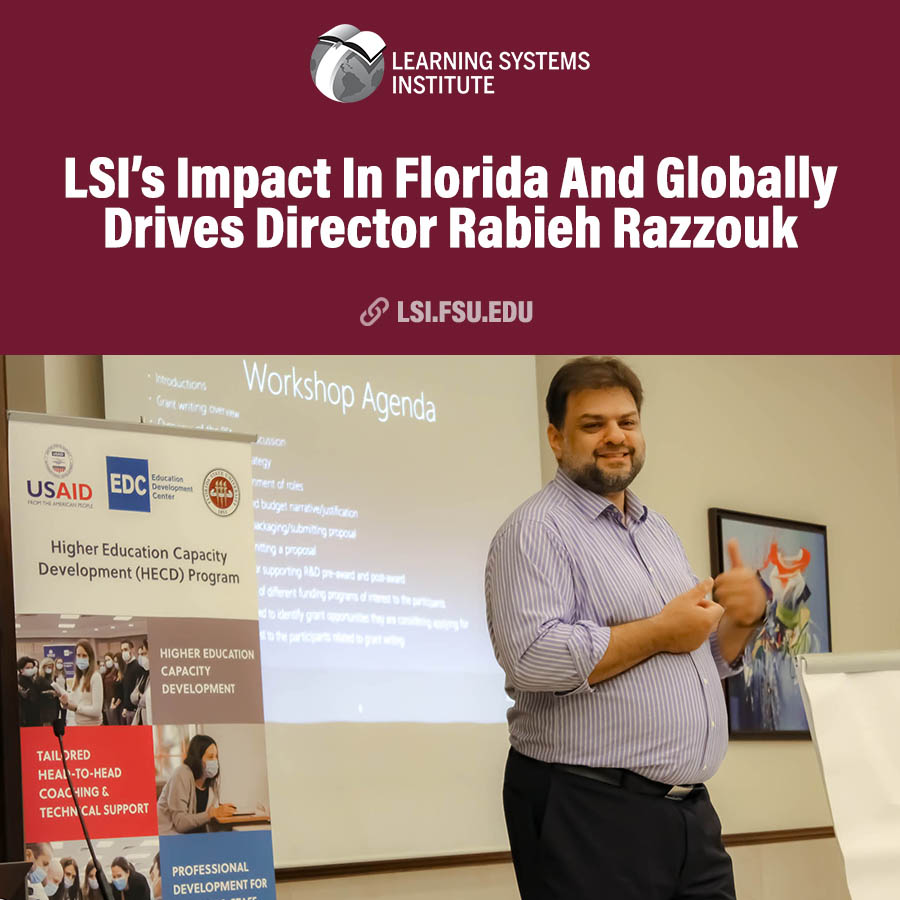 encouraging the faculty and staff to work on projects they're passionate about while assisting them with whatever they need to excel sits atop his list.
"My role is to support the faculty and staff and help them one-on-one or as a group to apply for grants and build the infrastructure needed to support a grant," said Razzouk. "We want to represent Florida State University as one of the nation's leading institutes in STEM and international education. I have worked to establish a vision for the organization and invest in areas to achieve these goals. I do this with the help of everybody at LSI and FSU."
Razzouk describes the environment at LSI as close-knit, "That's the beauty of LSI. Everybody works with one another."
Razzouk works to create an environment for faculty and staff to be productive and efficient. He emphasizes that the organization doesn't run on individuals but depends on teamwork. The people who comprise LSI can rely on each other because they all share a general understanding and passion for learning, despite having their own areas of expertise.
On top of managing a multimillion-dollar budget and nearly 100 faculty and staff, Razzouk also leads projects himself. He has been especially successful with his work where he generated more than 80 grants totaling more than $130M in funding for developing technologies and curriculum for teaching and learning as well as teacher professional development programs and research.
Razzouk is especially proud of developing the educational platform CPALMS. After learning that the state of Florida adopted Standards Driven Instruction, he created the online resource for supporting Florida's teachers.
Before beginning to design the platform, Razzouk interviewed teachers to gain insight into the teaching process and to help find ways to facilitate their demanding jobs. He discovered that one of their significant challenges is simply needing more time to plan lessons after long teaching days. He also acknowledged that the profession has a high turnover rate, so the goal was to build a platform that would deliver high-quality materials in an accessible manner. The essence of CPALMS is to save teachers time and ease their experience by providing them with information, tools, and quality instructional resources that align with Florida's standards.
CPALMS has met and exceeded all those goals. With more than 12,000 resources, over 750 million resource downloads, 245,000+ Florida educator accounts and 40,000 teachers receiving CPLAMS training, the platform is the State of Florida's official source for standards information and course descriptions. Razzouk notes that he still has much more planned for the CPALM's future.
While CPALMS has been a massive project for Razzouk and his team, the LSI director is currently involved in two international projects. He is helping the Higher Education Capacity Development activity in Lebanon to create and deliver training programs to help Lebanese universities develop capabilities for developing proposals and managing grants.
In addition, Razzouk is the Principal Investigator for a project in Uzbekistan. His team is helping create standards for instruction in English as a Foreign Language and math. They are also developing a digital platform that will house all the curriculum standards and curricular materials, including textbooks and supplemental resources, to be used by all 300,000 teachers in Uzbekistan. This system will provide immediate and direct support to all the teachers in Uzbekistan. It is an unprecedented effort in the country and will serve as a one-stop shop for all their curricular needs.
When it comes to overseeing international projects, Razzouk states, "The travel sometimes can be challenging because you have to be in numerous places at the same time because you have multiple projects running simultaneously, but working with the great team in LSI makes everything doable with the right amount of planning."
Since joining LSI as an associate director in 2003, Razzouk has witnessed the institute's growth as the faculty steadily increased in size and began tackling more international projects. Razzouk sees LSI focusing on STEM outreach and early literacy development in schools throughout Florida and internationally. His approach is simple: "If you do good work, you'll be able to find the grant funding."
Coming off one of the best fiscal years in more than two decades, Razzouk credits LSI's success to the dedication of the faculty and staff members. When asked about LSI's incredibly successful year, he answered, "This can only be attributed to the passion of everyone working on these projects." Razzouk mentions that the collective hours of work produced this past year have been the highest he's seen in nearly twenty years.
"The passion is not about the grants and the money. It's about the impact of the work," Razzouk concluded.