STEP Update From Malawi
December 7, 2022
By Dr. Adrienne Barnes-Story
The Language Education Section of the Department of Curriculum and Teaching Studies, School of Education, is involved in a project titled Strengthening Teacher Education and Practice (STEP) Activity. STEP has two main overarching objectives: to strengthen primary teacher education preparation programs (pre-service); and to operationalize a national Continuing Professional Development (CPD) framework, including an established system for new teacher induction.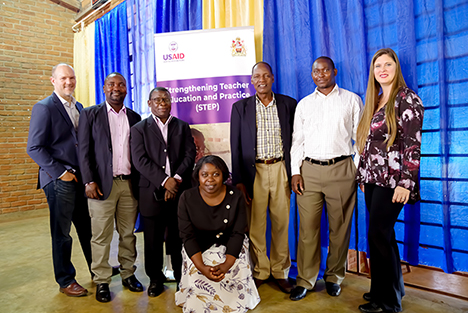 The STEP Activity aims at strengthening the capacity of Teacher Training Colleges to train teachers in early-grade instruction. This aim is aligned to the Ministry of Education's National Reading Program (NRP), which is being implemented in Standards 1 - 4 of Malawi's primary schools. STEP also aims at providing pathways for continuing professional development for all of Malawi's primary teachers to excel. Thus, Pre-service teacher education will be aligned with current, evidence-based practices in primary schools and with in-service teacher education and classroom realities – particularly for teachers in rural areas.
The STEP activity also aims at improving the capacity of the Ministry of Education and Teacher Training Colleges (TTCs) in preparing and developing educators for more effective classroom practice. Pre-service and in-service delivery of classroom instruction, especially in literacy and teaching English as a foreign language, will be strengthened. It is expected that STEP activity interventions will lead to more efficient and effective institutional practice, which ultimately will translate into more effective classroom practice and improved student learning outcomes.
STEP is a partnership between USAID, Florida State University (FSU), the Ministry of Education, and Malawian Teacher Training Colleges. To implement the project, FSU has sub-contracted 5 organizations that have specific roles, with FSU mainly providing technical leadership and coordinating results across all partners in the project. The sub-contracted partners are School-to-School International, The University of Malawi (UNIMA), DAPP Malawi, CharChar Literacy, and Olive Branch International. In the STEP Project, each subcontractor has a specific role to play. UNIMA, through the Language Education Section of the Department of Curriculum and Teaching Studies, is tasked with leading the project's research activities. The UNIMA team is comprised of Mr. Patrick Kapito (Principal Investigator), Associate Professor Allan Lipenga (Materials Development Specialist), Dr. Amos Chauma (Chichewa Specialist), Dr. Mervis Kamanga (English Specialist), and Dr. Symon Winiko (Action Research Specialist).  
So far, the project has made huge accomplishments which involve conducting a baseline situation analysis of the TTCs, their Teaching Practice schools, and a study of the pilot implementation of the Continuous Professional Development Framework. These activities were conducted from July 2022 up to October 2022. Another milestone is the contextualization of Foundational Literacy Course (FLC) materials conducted in November 2022 and a validation of the FLC materials conducted at a workshop held at St Joseph's TTC in Dedza from 6 to 8 December 2022. The FLC is a graduate-level course developed by Florida State University and is designed and aimed at equipping teacher educators with foundational literacy skills to enable them effectively train their student teachers in early-grade literacy concepts and pedagogies. 
The STEP project will run from January 20, 2022, to January 19, 2027, and has a budget of US $15.6 million.