Zambian Instructors Earn FSU Master's Degree As Part Of The Transforming Teacher Education Activity
---
Zambian Instructors Earn FSU Master's Degree As Part Of The Transforming Teacher Education Activity
August 21, 2023
In 2020 the Learning Systems Institute at Florida State University was chosen to lead the Transforming Teacher Education (TTE) Activity in Zambia. One of the exciting aspects of the U.S. Agency for International Development (USAID)-funded project was providing scholarships for instructors in Zambia to complete an online master's degree program from FSU. This summer Virginia Muzyamba and Charles Zuze completed the program and earned their master's degrees in elementary education.
"It means more than words could ever express," said Muzyamba when asked about her FSU master's degree. "Having successfully obtained the master's degree in elementary education is the greatest level of achievement in my education journey."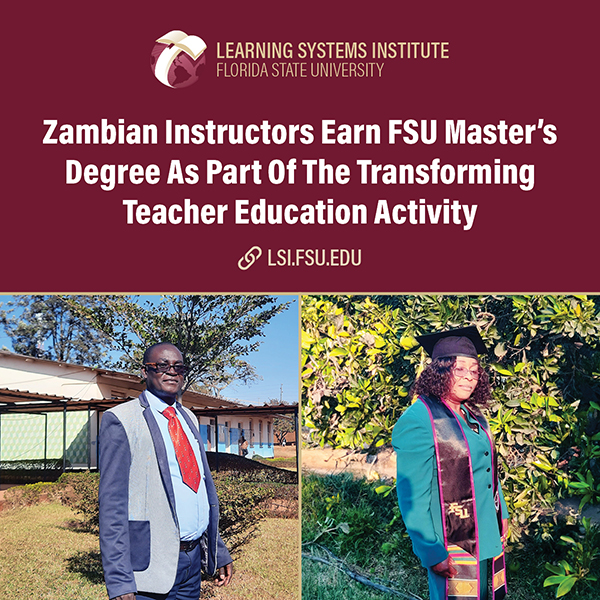 The process for both instructors began with an application submitted to TTE. Next up was an interview covering the applicants' experiences in teaching literacy and their expectations if they were accepted to the master's program. Once the scholarships were awarded, the program's accelerated pace required both participants to find a balance between work, family and study to complete the degree in just one year.  
"It is an honor to earn a master's degree from FSU, such a recognized and reputable university," said Zuze. "I must say that it was not easy to earn a master's degree from Florida State University, let alone online study. It required hard work and dedication and to earn the degree it is an honor for me."
The two lecturers from Kitwe College of Education (Muzyamba) and Solwezi College of Education (Zuze) received active academic and technology support from TTE staff throughout the year-long process. The support provided included mentorship by instructors and peer-mentors, Flipped lessons, discussion threads, peer-reviews, Google docs, research projects, assignments, readings, and e-books among other resources.
"In our baseline analysis of pre-service teacher education in Zambia, we found that 40% of the college of education lecturers only had a bachelor's degree," said Dr. Stephanie Zuilkowski who serves as the principal investigator on the project. "These scholarships to Mr. Zuze and Ms. Muzyamba were one way in which we aimed to increase the qualifications of this key group of teacher educators. They have worked incredibly hard to earn these master's degrees at FSU."
Both recent FSU graduates plan to utilize their degrees to continue to play a role in improving literacy in Zambia. LSI faculty, in collaboration with partners School-to-School International and the University of Zambia, are working with 12 universities and colleges of education in the country to improve the training of primary grade teachers. The goal is to give more than 60 Zambian teacher educators the skills to deliver effective instruction to 9,000 college and university students studying to become primary grade teachers.
"I will use the gained knowledge, pedagogy, content and skills to educate my pre-service student-teachers (prospective teachers) to meet the targeted goals for better achievement," said Muzyamba. "Further I want to help other institution colleagues in capacity-building during the Continuous Professional Development programs, and collaboratively work with TTE and TED to carry out the vision."
"My plans are to ensure that I work accordingly and participate in national issues such as improving literacy levels as well as the national curriculum when the need arises," said Zuze.
LSI has been at the forefront of developing innovative solutions that bridge theory and practice in education. For over 50 years, LSI has delivered systems that measurably improve the learning and performance of organizations and individuals here in Florida and globally. To learn more about LSI, please visit LSI.FSU.edu.