LSI Receives Grant To Further Teacher Preparedness In Rwanda
---
LSI Receives Grant To Further Teacher Preparedness In Rwanda
September 13, 2023
Tallahassee, Fla. – The Learning Systems Institute at Florida State University has been awarded a grant to pilot the Primary Teaching Residency Program at two Teaching Training Institutions in Rwanda.
Funded by the U.S.-based Rainwater Charitable Foundation, the Primary Teaching Residency Program (PTRP) aims to ensure that prospective teachers have ample opportunities to enhance their understanding of technical content and increased hands-on practice in primary classrooms combined with coaching and mentoring. These experiences will better prepare preservice teachers to implement the competence-based curriculum by developing the appropriate knowledge, skills, values, and attitudes to lead the teaching and learning process.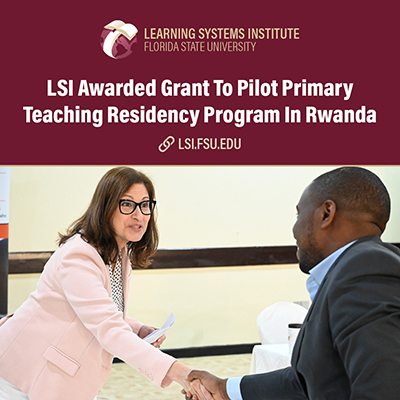 The program will focus on four key areas: strengthening the knowledge of evidence-based pedagogy, providing extensive and robust teaching practice experiences, building English-language skills and developing digital literacy. Rwanda Teaching Training Institutions (TTIs) are three-year teaching education programs. The PRTP will provide an additional year of training.
"Our team is honored to join our colleagues from Inspire, Educate and Empower (IEE) and Bridge to Rwanda to Pilot the Primary Teaching Residency Program," said Ana H. Marty, Ph.D. "Providing preservice teachers with a fourth year of training and practice was an idea our team has discussed as a necessary step to strengthen Rwanda's quality of education and students' learning outcomes. This is a unique opportunity given by the Minister of Education to make a difference in Rwanda by ensuring the preservice teachers are well-equipped to transition into full-time teaching and perform effectively in the classroom."
This was an "invitation-only" consortium initiated by the Minister of State in charge of Primary and Secondary Education in Rwanda. The consortium was formed by LSI, Bridge 2 Rwanda and Inspire, Educate, Empower.
Marty will serve as the principal investigator and work with LSI staff Marion Fesmire, Ed.D. and Kate Schell.
LSI has been at the forefront of developing innovative solutions that bridge theory and practice in education. For over 50 years, LSI has delivered systems that measurably improve the learning and performance of organizations and individuals here in Florida and globally. To learn more about LSI, please visit LSI.FSU.edu.
#InnovatingLearning